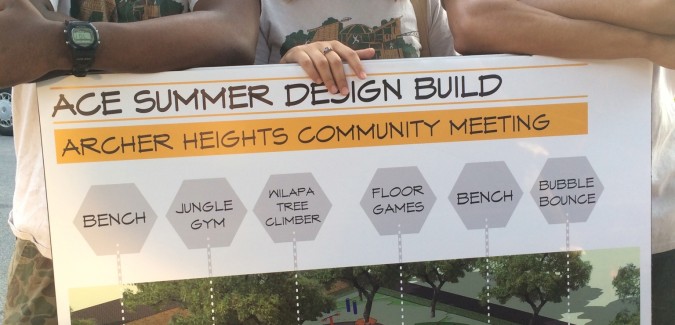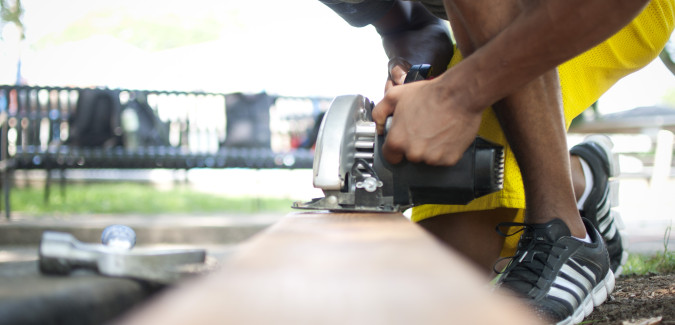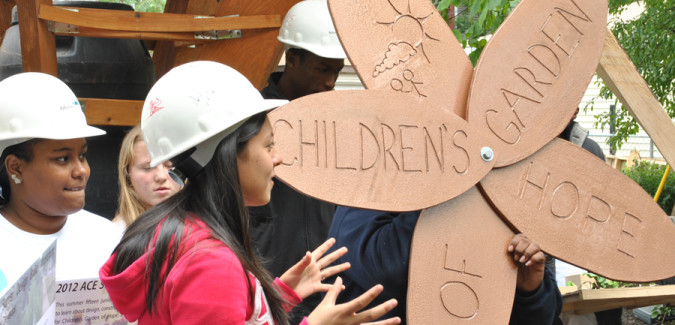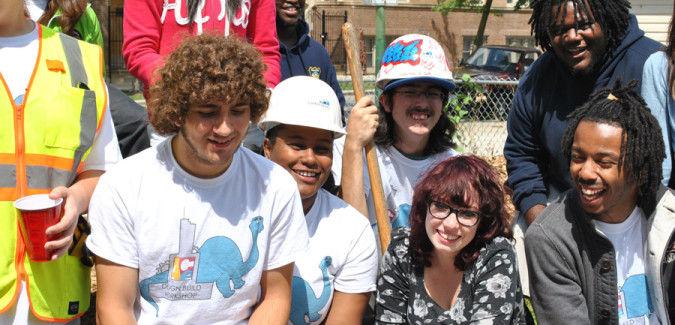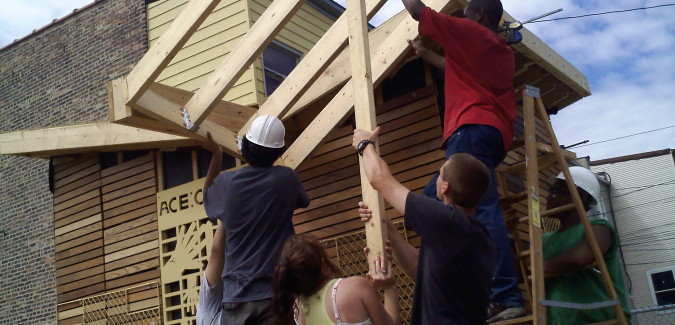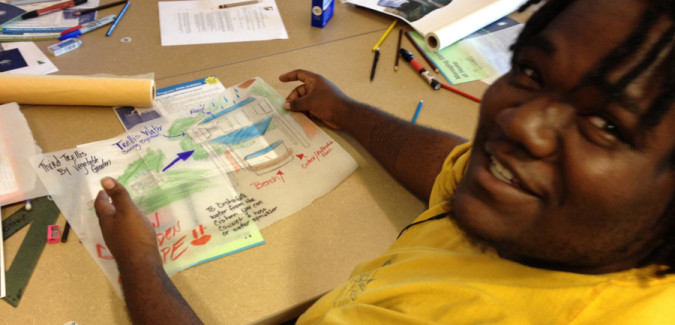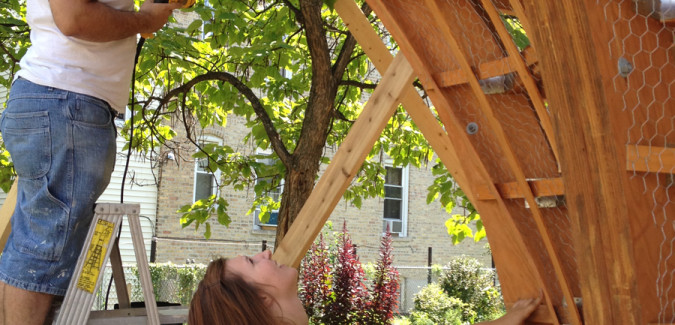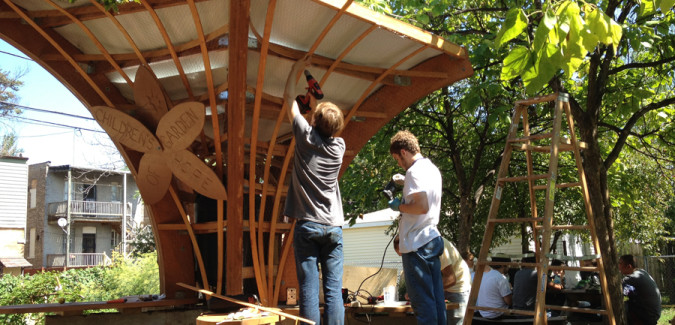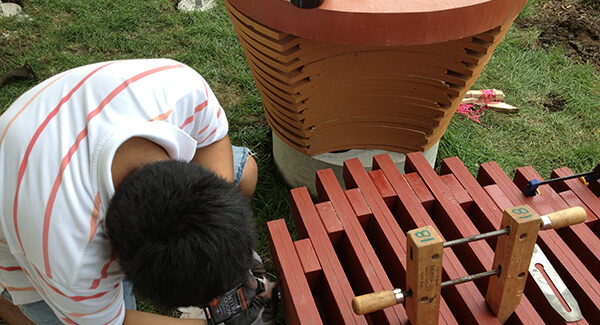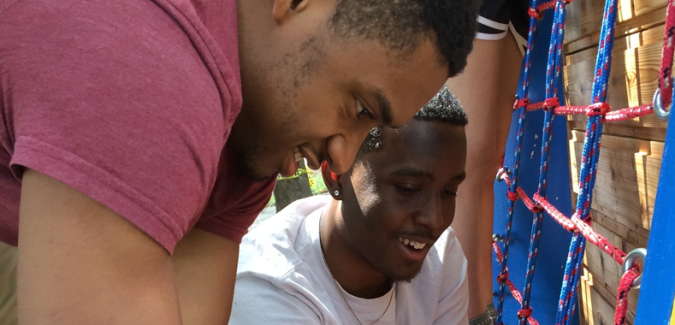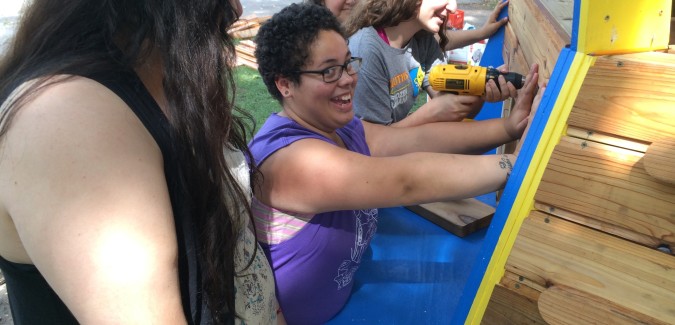 Overview of the ACE Summer Design Build Workshop
Our summer studio is a valuable extension of the ACE Program, providing additional mentorship and career exposure to our most motivated students.  The Design Build Workshop is a unique summer apprenticeship program that immerses students in a 7-week hands-on community design project.  The student team of up to 15 high-school students and 2 or more college students will be led by working and licensed professionals in Architecture, Engineering and Construction Management.  They will engage with a real client, a real design problem and real budget, and will be asked to think critically and to express creative design solutions.  The summer begins with a community design event in late June, and culminates in August with a final student presentation and ribbon cutting, unveiling the built project!
The program teaches practical design skills including brainstorming, hand-drawing, modeling with 3D software, and presentation and construction skills.  More importantly it teaches students about teamwork, community engagement and how to manage a creative design process.
The Workshop is free for ACE students, and those who successfully complete the summer program will be awarded a one-time college/university scholarship to assist with college application fees, book costs or tuition.
The 2017 workshop will run from Monday-Friday from 8:00 am – 12:00 pm Monday, June 26-Friday, August 11.
Students who are interested in the ACE program and the Design Build Workshop, should contact the ACE executive director at info@acementorchicago.org
Design Build Teaching Assistantships
ACE Chicago is seeking one to two students who have an interest in design, construction, and community development to assist with this year's summer program. The collegiate assistant will fully participate in the summer Workshop as both a team member and teaching assistant. It is hoped that the selected candidate will help motivate and lead the team through the design-build process, while also assisting the instructors with organizational or administrative tasks.
To be eligible for this position, the candidate must have completed at least 1 year of the ACE program and be currently enrolled in a collegiate architecture, construction, or engineering program. There are no further restrictions regarding year in school, previous employment, etc. Architectural or structural design ability, construction experience, familiarity with 2D and 3D drafting programs, and prior leadership experience are highly desirable; however, it is not expected that one candidate possess an expertise in all areas.
Interested students should email resume and cover letter to ACE DESIGN BUILD DIRECTORS at acementorchicago@gmail.com by Monday April 16, 2018. The cover letter, in addition to highlighting past experience, should include current contact information and provide the year/number of the candidate's former ACE team. In appreciation for your participation, ACE will provide a one-time college scholarship of $2,500 paid directly to you to use for college related expenses such as books and supplies.